3rd and Final IndiZone Games Contest
Updated 12/1/94
So, Like, How's the Contest Going?
This year we're going to break with tradition and announce DURING the contest how many people have entered IndiZone3. As of the final Nov. 15 registration deadline, there were 185 registered contestants! This sets a new record for the IndiZone Project.

However, no need to worry about your program. Keep in mind the following interesting fact: very few contestants actually send in code. During the two previous contests, a mere 17% of the contestants completed and entered their submissions for juding!!! So don't wait until the last minute to complete your code, and then bail figuring that you stand a snowball's chance of winning. You actually stand a MUCH better chance than you think.

And don't forget that you can call us and ask whatever questions your heart desires if you're a registered contestant. The phone number is (415) 390 2020, and we'll answer nearly any question except specific information on how many people are in each category (we really have NO clue here...75% of the contestants wind up changing their category on their final entry form)and requests for personal dimensions (which change according to whether I've had Morroccan food recently or not). There may be a slight lag in response time...current staffing is precisely 1, and we (I) am still trying to get the IndiZone2 remaster out the door.
What About Next Year?
Good question. We'd love to hold another IndiZone contest. But we need your help to do it. Here's what we need to ensure that we can hold another one of these contests next year:
Massive participation. We're already well on the way with the 185 contestants that we've got, but if all we get are 23 submissions, that's not going to be enough to justify continuation of the contest. We're going to need a minimum of 50 submissions to do this again next year. Don't give up on your ideas!
Incredibly awesome code. We need stuff that will simply blow people's socks off, specifically programs that are high-end texture mapped creative programs. Maybe you don't have the most impressive concept in the world, but execution can mean the difference between a really hot game and a merely okay game. Let's take a totally wacky example of the old adventure game "rogue" and DOOM, just for the sake of argument. DOOM doesn't have all the cool treasures and potions that rogue has, but it's the look and feel that makes DOOM so popular and...yes...scary. Same basic concept, but much more impact. The more real you can make your application look and sound, the more impact it has on the user. So really push your system to get something that looks great as well as runs great.
Lots of letters. If you REALLY think this is a cool idea, send email. Send faxes. Let us know. Each letter we get from you is proof that our customers think this is a fantastic idea and want us to continue to hold these in the future. I DO forward these to my boss without editing, so say what you feel.
What Are the Prizes This Year?
The prizes aren't finalized yet in terms of exactly what will be inside, but there will probably be a similair arrangement to last year's, where each contestant has X number of "game points" that they can spend to get specific hardware or software combinations that they want from a list.

But our biggest news is the announcement of the prize for the Best Reality Engine category...the winner of that particular category will win an Indigo2 workstation!!!!
So What Kinds of Things Can I Do to Win Best R.E.?
Killer execution (pun not intended). Emphasize the features of the Reality Engine that make it such a powerful graphics machine...go for those texture maps, and make them as realistic as possible. Take advantage of the polygon speeds the RE can achieve, and build a realistic, fast game. Think Egghead Shred, for those of you fortunate enough to catch a glimpse of it at one of the tradeshows it's been featured at.

Also, to help you take advantage of the RE, we have a late-breaking offer that didn't make it onto the developer's CD but which is available to registered IndiZone3 contestants...we now have Performer available on request for those of you who would like to use it for the duration of the contest. Contact IndiZone HQ at the location listed below if you'd like to grab a copy for use in your submission.
But I Don't HAVE a Reality Engine!
Get in touch with your local sales office or university and ask them if they have a means by which you can beg, borrow, or steal time on their Reality Engine for testing. Then develop what you can on the workstation that you do own, and when you're ready, test the final stages on the Reality Engine which you've been able to locate.

We've been receiving a lot of requests recently to provide various combinations of hardware and software, and unfortunately we have to turn all of them down. What software we can provide to you we've already put on the dev CD, and we can't provide hardware to all of you. So, if you need a specific combination of things, you're on your own to locate them. Best of luck.
Now That I'm Psyched For These Games, Where Do I Get Them?
Right now, you can only get the IndiZone2 CD if you attended a trade show where they were being given away (SIGGRAPH, SGI Expo Japan), or if you bought a new Indy or Indigo2 XL system after July. Meanwhile, however, we've reworked that CD to fix a number of bugs, implement some internationalization, and include the SGI port of DOOM! Watch this page for an announcement coming up in mid-December as to where you can call to get a copy of IndiZone2 with DOOM, or the original IndiZone games CD.
We now return you to the regular WEB page, which you may or may not have already seen...
Your Cool Software Could Win a Silicon Graphics Workstation!
IndiZone3 is in progress! What is IndiZone you might ask? IndiZone is a competition to create the coolest games and tools for Silicon Graphics workstations.

The winners in the previous two IndiZone contests, IndiZone1 and IndiZone2, each walked away with a Silicon Graphics desktop workstation as a prize!

IndiZone3 is the third and final games contest in the series. The contest is now closed to new contestants...those of you who sent in your entry cards now need to work like rabid rabbits to produce nifty code by May 27, 1995 in order to compete for a Silicon Graphics desktop workstation of your own!

Here are more details for those of you curious about the contest.
Categories for Entry
There are three categories for the IndiZone3 Games Contest:
Best Reality Engine Software
Best Indigo2 Software
Best Indy Software
Each category (see entry card) will be awarded one Silicon Graphics desktop workstation as a prize. Odds are excellent; in the two previous contests there were 23 entries total in each contest, out of 132 registered contestants.

Contestants in this contest have filled out and returned their entry card by the applicable deadlines. In return, they will receive a package containing full rules and guidelines, a sofware license agreement form, a final entry form, and a CD that has source code and helpful libraries and other code to assist contestants in writing their submissions.
---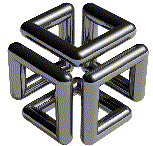 IndiZone Headquarters (indigogames@sgi.com) (415) 390 2020