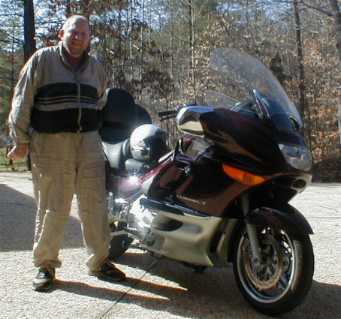 Mike's 2000 BMW - K1200LT Custom

I love this motorcycle! Moved up from an '82 Suzuki Sport Touring in July of 2000. Big technological changes came about in 18 years but WOW! I had no idea of what I had been missing - ABS, electronic fuel injection, electronic cruise control, heated seats, heated hand grips, electrically adjusted windshield, 6 CD changer , paralever and telelever suspension. Not only am I now riding in style and comfort but I'm riding better and safer with all of this great technology.
Naturally, I've had to accessorize. New helmet, new jacket, Kathy's bags, Emap GPS
Patty says "It's the gift that keeps on giving."
---
The Ride




Jacket and Luggage
Christmas from my great kids

Kathy's bag with the CD
below
Sally's looking for
for the hack